Awesome List Updates on Oct 24, 2019
17 awesome lists updated today.
🏠 Home · 🔍 Search · 🔥 Feed · 📮 Subscribe · ❤️ Sponsor
Design Patterns / Windows
Internationalization / Image Picker
Party
Cranium bills itself as the "whole-brain" game. It's a party game that borrows from a host of other popular party games of recent times. Players have to successfully complete activities in each of four sections to win. 1) Creative Cat - A player must clue a word to his or her teammates by drawing it, sculpting it in clay, or drawing it with his or her eyes closed. 2) Data Head - A variety of trivia questions. 3) Word Worm - Players unscramble words, spell challenging words, guess definitions, identify words with letters left out, or spell words backwards. 4) Star Performer - players must whistle a song, impersonate a celebrity, or act out a clue. Cranium has elements similar to those of Pictionary, Charades, Trivial Pursuit: Genus Edition, Celebrities, Huggermugger, Claymania, etc.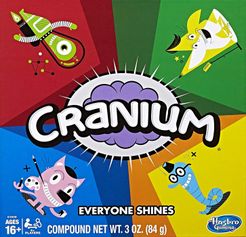 | Players | Min. Age | Time |
| --- | --- | --- |
| 4 - 16 | 13 | 60m |
Code Loaders
Videos / Third-party Service Integration
Communication / Collaboration and Team Tools
Software / Software Development - Project Management
Working Groups / Robotics Capture the Flag (RCTF)
Photography
Resources / Blogs
API / E-commerce
Communications and interoperability / Web Sockets
Machine Learning Ops / Terraform
Components & Libraries / Utilities
Rails
Pre-Literate
Lower Elementary
Upper Elementary
Sound Programming Languages
Projection Mapping • VJing
Other / Other
---