Track Awesome List Updates Daily

We track over 500 awesome list updates, and you can also subscribe to daily or weekly updates via RSS or News Letter. This repo is generated by trackawesomelist-source, visit it Online or with Github.

📅 Weekly · 🔍 Search · 🔥 Feed · 📮 Subscribe · ❤️ Sponsor · 😺 Github · 🌐 Website · 📝 06/04 · ✅ 06/04
Table of Contents
Recently UpdatedPlugins /
Common Section / Angular
Big Tech Digest. A manually curated newsletter aggregating the latest tech articles from Big Tech and startup engineering blogs for Software Engineers and AI/ML folks.
Components & Libraries / UI Utilities
v-hide (⭐7) - v-hide directive to accompany v-if and v-show. Keeps layout space in the DOM
Projects
Crypto-helper (⭐23) - Web app that can hash, encrypt, and sign the data on the client side. Also includes a JWT debugger. Website.
Monitoring
robusta.dev — Powerful Kubernetes monitoring, based on Prometheus. Bring your own Prometheus or install the all-in-one bundle. Free tier includes up to 20 Kubernetes nodes. Alerts via Slack, Microsoft Teams, Discord, and more. Integrations with PagerDuty, OpsGenie, VictorOps, DataDog, and many other tools.
Visitor Session Recording
OpenReplay.com - Open-source session replay with devtools for bug reproduction, live session for real-time support, and product analytics suite. 1,000 sessions/month with access to all features and 7-day retention.
Software / Analytics
Aptabase - Open Source, Privacy-First and Simple Analytics for Mobile and Desktop apps. SDKs available for Swift, Kotlin, Flutter and many others! (Source Code (⭐65)) AGPL-3.0 Docker
Generative AI Tools Directories / Contribute to Our Repository
Inbox: Large Language Models / Contribute to Our Repository
Android / Projects
Android / Extensions
Android / Tests
Kotlin JavaScript / JavaScript
Kotlin JavaScript / Build Tools
Kotlin JavaScript / Integration
Kotlin Native / Projects
JetBrains/kotlin-native (⭐7.1k) - Kotlin/Native is a LLVM backend for the Kotlin compiler, runtime implementation and native code generation facility using LLVM toolchain.
General
API / Authentication
Clerk – Complete user management UIs and APIs, purpose-built for React, Next.js, and the modern web.
Standout Projects
f60 - A cross-platform WebXR escape room series set within a Soviet prison.
Content Hubs / Reddit
heyVR - A curated platform for publishing WebXR games.
Art & Image Generator
Name: PromeAI

Title: AI Tool for Rendering and Coloring Sketches.

Description: Looking for an AI-powered design assistant that can help bring your creative ideas to life? Create stunning designs with our extensive controllable AIGC (C-AIGC) model style library. Whether you're architects, interior designers, product designers, or game animation designers.

Offer Free Version: ✅
Chat Bot
Name: PageLines

Title: AI Agents for Websites.

Description: ChapGPT powered agents and chatbots that improve your website and marketing.

Offer Free Version: ✅
Content Generation & Seo
Name: unbound

Title: Automate Content Creation for Your Small Business.

Description: Leverage all the best AI generation tools in one place designed to automate content creation for small business, online shops and creators.

Offer Free Version: ✅
Human Resources & Resume
Name: AI Resume Editor

Title: The Way the World Makes Resumes. The Smartest GPT-powered Resume Builder.

Description: Rezi is the only resume platform that uses leading AI to automate every aspect of creating a hirable resume—writing, editing, formatting, and optimizing.

Offer Free Version: ✅
Photo & Image Editing
Name: DoMyShoot

Title: DoMyShoot - Product Photography Simplified.

Description: With DoMyShoot, you can instantly upgrade your eCommerce business with professional-looking product photos. Easily use the app's innovative features to create custom content for your brand - no experience required! Guide yourself through a photoshoot using just your smartphone and let our AI technology handle the rest of the process, turning everyday products into photo realistic images that are sure to take marketing strategies up a notch.

Offer Free Version: ✅
Writing Assistant
Name: Quillbot Paraphraser

Title: QuillBot's AI-powered Paraphrasing Tool Will Enhance Your Writing.

Description: Your words matter, and our paraphrasing tool is designed to ensure you use the right ones. With two free modes and five Premium modes to choose from, you can use QuillBot's online Paraphraser to rephrase any text in a variety of ways.

Offer Free Version: ✅
Reactive Programming
OneWay (⭐52) - A Swift library for state management with unidirectional data flow.
Parser / Package managers
Tools - Editors & IDEs & Explorers / React
Brangr (⭐0) - A unique, user-friendly data browser/viewer for any GraphQL service, with attractive result layouts.
Database
CosId (⭐300) - Universal, flexible, high-performance distributed ID generator.
Open Source Projects / Other / Chatbots
TutorGPT (⭐87): Dynamic few-shot metaprompting for the task of tutoring.
Alternatives / Articles
e2b (⭐5.1k): Open-source platform for building & deploying virtual developers' agents
SuperAGI (⭐1.5k): A dev-first open source autonomous AI agent framework.
SmartGPT (⭐1.3k): A program that provides LLMs with the ability to complete complex tasks using plugins.
Components & Libraries / UI Components
vue-global-alert-utility (⭐0) - A Vue.js global alert utility to replace vanilla JavaScript alert function with better user and developer experience, while keeping it as simple as possible.
v-image-magnifier (⭐6) - A Vue 3 plugin that provides interactive image zoom functionality. Allow users to zoom in on an image by hovering over it, providing an enlarged view of the corresponding part of the image.
Everright-filter (⭐2) - A query builder component for Vue3. Supports filtering of multiple data types, including string, number, dropdown, cascade, region, date, and time.
Components & Libraries / UI Utilities
Party
A game of absurd arguments
Superfight is a game where you argue with your friends over ridiculous fights. The game is very simple. Players use the cards to create ridiculous fighters, and argue about which character would win in a fight. Then everyone around the table votes on the winner. As you can imagine, the fights are epic and hilarious. It's fun for all ages and works for all kinds of players.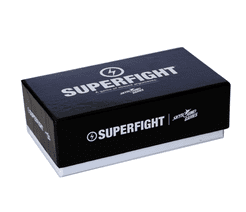 | Players | Min. Age | Time |
| --- | --- | --- |
| 2 - 8 | 8 | 15m |
Tools & Software / Utilities
Audio
Books, blogs and training materials / Community Chat Rooms
Bars and Lines / Diagnostics
Competitive Programming / Diagnostics
Languages
Malbolge - Named after the 8th level of hell, is designed to be as difficult as possible to program.
Resources / Learning
Tab Bar
Tools / Agents
Local GPT (⭐1.8k): Inspired on Private GPT with the GPT4ALL model replaced with the Vicuna-7B model and using the InstructorEmbeddings instead of LlamaEmbeddings
JavaScript / React
Nextjs Weekly. A newsletter of the best Next.js articles, tools and projects.
Web Hosting
Other Free Resources
ElevateAI - Get up to 200 hours of audio transcription for free every month.
OpenUtils - There are various free tools available for developers, such as HTML/CSS/JavaScript formatters, minifiers, converter, encoder/decoder and many others.
Software / Communication - Social Networks and Forums
Software / Media Streaming - Audio Streaming
vod2pod-rss (⭐70) ⚠ - Convert YouTube and Twitch channels to podcasts, no storage required. Transcodes VoDs to MP3 192k on the fly, generates an RSS feed to use in podcast clients. MIT Docker
Software / Money, Budgeting & Management
---
Top 50 Awesome List
All Tracked List
Back-End Development
Big Data
Books
Business
ChatGPT
Computer Science
Content Management Systems
Databases
Decentralized Systems
Development Environment
Editors
Entertainment
Events
Finance
Front-End Development
GPT-3
Gaming
Hardware
Health and Social Science
Learn
Media
Miscellaneous
Networking
Platforms
Programming Languages
Security
Testing
Theory
Work
Social Media
Contribution

This repo is generated by trackawesomelist-source, if you want to add your awesome list here, please edit config.yml, and send a pull request, or just open an issue, I'll add it manually.

If you want to add badge (
) to your awesome list, please add the following code to your README.md:
[![Track Awesome List](https://www.trackawesomelist.com/badge.svg)](https://www.trackawesomelist.com/your_repo_pathname/)
The doc is still under construction, if you have any question, please open an issue