Awesome List Updates on Oct 07, 2021
16 awesome lists updated today.
🏠 Home · 🔍 Search · 🔥 Feed · 📮 Subscribe · ❤️ Sponsor
MVC Frameworks and Libraries / Runner
Data Visualization / Runner
Data Structure / Runner
Storage / Runner
Operating System / Runner
Form Widgets / Calendar
Form Widgets / Other
Modals and Popups / Other
Scroll / Other
Images / Other
Maps / Other
Video/Audio / Other
Animations / Other
SDK / Other
Full Text Search / Other
Misc / Other
Other
ElectropaintOSX
Port of the mesmerizing Silicon Graphics screensaver
Free (Open Source)
Public Data Resources / OpenStreetMap
Plugins and scripts / Various Godot versions
Family
Sushi Draft is a card game that looks good enough to eat! Sushi Draft includes a deck of 32 sushi cards (8 ikura, 7 ebi, 6 maguro, 5 tamago, 4 kappa and 2 "wild" triples) and 18 point tokens (three each for the five types of sushi and three for dessert); the point tokens range in value from 1-5, with the more plentiful sushi dishes being worth more points. Over three rounds, players draft plates of sushi and collect sushi points, which are drawn randomly. The player with the most diverse menu gets dessert. Players tally their points, and whoever has the highest score wins. Sushi Draft is quick to learn and fun for the whole family, and is the perfect introduction to the classic genre of pick-and-pass/card-drafting games!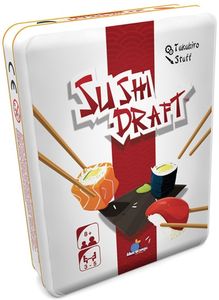 | Players | Min. Age | Time |
| --- | --- | --- |
| 3 - 5 | 8 | 15m |
Bonus / Game Engine resources
Articles / Deployment
Articles / Getting Started
Books
Tools & Software / Acquisition
Epic Fantasy / Codex Alera (2005) by Jim Butcher [4.28] 🔥
Extensions / Community
Modules / Utils
Assembly / 理論計算機科学
MOOC's
Books / Visualization Tools
Comics / Book Deals (Affiliated) 🛍
Cryptocurrency
Currency Exchange
Development
Finance
Games & Comics
Government
Security
Shopping
Social
Weather
Miscellaneous / Development and testing
---