Awesome List Updates on Sep 26 - Oct 02, 2022
63 awesome lists updated this week.
🏠 Home · 🔍 Search · 🔥 Feed · 📮 Subscribe · ❤️ Sponsor
Game Development
Logging
xylog (⭐12) - Leveled and structured logging, dynamic fields, high performance, zone management, simple configuration, and readable syntax.
Package Management
gup (⭐166) - Update binaries installed by "go install".
Third-party APIs
Date and Time Processing
Remote Jobs:
Using WSL / The WSL Shell
The Bash Academy - The Bash Academy is an initiative to promote the bash shell language and educate people on its use.
Supported Distributions / OpenSUSE / SUSE Enterprise Linux
Supported Distributions / Pengwin
Additional Resources / Miscellaneous Tools
Related Projects / Miscellaneous Tools
PowerShell - PowerShell is a task automation and configuration management framework from Microsoft, consisting of a command-line shell and associated scripting language.
Thanks / Miscellaneous Tools
The Windows 10, WSL, and kernel teams at Microsoft, including but not limited to Tara Raj, Rich Turner, Jessie Frazelle, Jack Hammons, Sarah Cooley, Ben Hillis, Allen Sudbring, Brandon Wilson, John Starks, Russ Alexander, Yosef Durr, Sven Groot, Sunil Muthuswamy, Palkesh Soni, John Starks, Craig Wilhite.
Intellectual Property Notices / Miscellaneous Tools
Docker® and Docker Hub® are registered trademarks of Docker, Inc. *
Platforms
Locize - The continuous localization management platform that powers up your development and translation.
Tools
FormatJS - A modular collection of JavaScript libraries for internationalization that are focused on formatting numbers, dates, and strings for displaying to people.
Articles
Other
Django docs - i18n - Part of the Django docs, focused on internationalization and localization.
Party
Ayoayo (Yoruba: Ayò Ọlọ́pọ́n) is a traditional mancala played by the Yoruba people in Nigeria. It is very close to the Oware game that spread to the Americas with the atlantic slave trade. Among modern mancalas, which are most often derived from Warri, the Kalah is a notable one that has essentially the same rules as Ayoayo. There are games with identical rules also in other areas of Africa. One such game is the Endodoi, played by the Maasai people of Kenya and Tanzania.
| Players | Min. Age | Time |
| --- | --- | --- |
| 2 | 8 | 15-30m |
The object of Condottiere is to acquire four connected provinces in renaissance Italy. To do this players auction off different provinces on the board and bid on these provinces with a hand of cards representing mercenaries,seasons, scarecrows, and political figures. However, unlike standard auctions, in Condottiere every player loses their bid. Players are, in effect, bidding the number of troops they are willing to lose in order to win a province.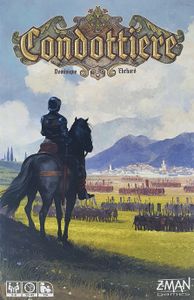 | Players | Min. Age | Time |
| --- | --- | --- |
| 2 - 6 | 14 | around 45m |
Inbox: Stable Diffusion / For text-to-image
[🔥🔥🔥] DreamBooth: fine tuning text-to-image diffusion models for subject-driven generation
Web
🔧 FireSword (⭐0) - Filter Firestore and RTDB unknown keys or keys with incorrect data types recursively, support all field values and special data types. (For web and admin)
Development / Devops
pm2 (⭐38k) - Production Process Manager for Node.js.
Development / Release
Productivity / Calendars
Utilities / Calendars
Utilities / Network Utilities
Utilities / Theming and Customization
Utilities / Shell Utilities
Utilities / System Interaction Utilities
Utilities / Markdown
Utilities / Security
Utilities / Browser Replacement
s (⭐2k) - Open a web search in your terminal.
hget (⭐321) - Render websites in plain text from your terminal.
Utilities / Internet Speedtest
Files and Directories / Directory Navigation
fz (⭐432) - Seamless fuzzy tab completion for z.
Version Control / Git
Version Control / Emoji
Images / Emoji
Info / How To Read a Paper
Other multimodal data formats / Ruby
TIDES project (⭐5) - Transit ITS Data Exchange Specification (TIDES) is a proposed effort to create standard data structures, APIs, and data management tools for historical transit ITS data including AVL, APC and AFC Data.
On-line courses / Ruby
Software / Monitoring
Articles
k6 Learn (⭐55) - Explanation of the principles of load testing and practical examples for how to do it with k6.
Software / Frameworks
IoTSharp.Gateways (⭐6) - Open-source IoT Gateway - integrates devices connected to legacy and third-party systems with IoTSharp IoT Platform using ModBus,OPC-UA,BACNetand MQTT protocols.
Software / Middlewares
IoTSharp (⭐587) - IoTSharp is an open-source IoT platform for data collection, processing, visualization, and device management.
Cryptography
ed25519 (⭐6) - the Ed25519 elliptic curve public-key signature system described in [RFC 8032]
Data Formats
GUI Development
Providers / Vendor supported providers
Distributed Testing
Maps in the Wild
Plugins
IR Tools Collection / All-In-One Tools
IRIS (⭐586) - IRIS is a web collaborative platform for incident response analysts allowing to share investigations at a technical level.
IR Tools Collection / Books
Links / Courses
CS194A Android Development - Learn basic, foundational techniques for developing Android mobile applications and apply those toward building a single or multi page, networked Android application
Libraries/Frameworks / Misc
Libraries/Frameworks / Data Science
mipt-npm/kmath (⭐496) - A (not so numpy-like) multiplatform mathematical library with higher level abstractions.
JetBrains/KotlinDL - High-level Deep Learning Framework written in Kotlin and inspired by Keras.
Libraries/Frameworks / API Clients
Libraries/Frameworks / Logging
Libraries/Frameworks / Jetpack-Compose
Projects / Idea Plugins
Other Development Tools / Smart Contracts
avm-semantics (⭐8) - Algorand Virtual Machine and TEAL Semantics in K framework. Aids with testing and formal verification of smart contracts.
Sports
Manuals and Ephemera / Ephemera
Scheduling / Touch Resistive
Schedule (⭐553) - A scheduler for uasyncio based applications. Schedule events at specified times and dates.
Frameworks / SRAM
meerkat (⭐2) - I2C Data Acquisition for MicroPython and Raspberry Pi.
Free fonts / Fonts
General Search
People Investigations / Telegram
APIs and SDKs
Code samples and snippets
Projects / Godot 3.2+
vpuppr (⭐391) - A cross-platform VTuber application with mulitple tracking backends.
Modules / Godot 3.2+
Resources / Community
Tools
🔼🌍🔧 Tailwindhelper - Visualize Tailwind CSS classes and unit converter.
Transport-layer defenses / Overlay and Virtual Private Networks (VPNs)
Headscale (⭐9.7k) - Open source, self-hosted implementation of the Tailscale control server.
Apps
CoTNetwork - A distributed computing network base on ipfs
DeCommerce - Decentralized ecommerce for Web3. Allows people to transact business without middlemen. No Middleman, no Bank, no Big Tech, no Government.
Datasets
Services
Crust Network - Decentralized pinning and gateway service for IPFS.
Tools
rivet (⭐5) - A toolkit makes it easier to archive webpages to IPFS.
Programming Languages / Other
refurb (⭐2.1k) — A tool for refurbishing and modernizing Python codebases. Refurb is heavily inspired by clippy, the built-in linter for Rust.
Software / Automation
tubesync (⭐938) ⚠ - Syncs YouTube channels and playlists to a locally hosted media server. AGPL-3.0 Docker/Python
Software / Communication - Custom Communication Systems
Software / Communication - Social Networks and Forums
kbin - Federated content aggregator and microblogging platform. (Source Code (⭐75)) AGPL-3.0 PHP/Nodejs/Docker
Software / Media Streaming - Audio Streaming
Maloja (⭐549) - Self-hosted music scrobble database, alternative to Last.fm. (Demo) GPL-3.0 Python/Docker
Software / Recipe Management
KitchenOwl - A cross-platform shopping list, recipe storage, expense tracker, and meal planner following the material design language. (Source Code (⭐264)) AGPL-3.0 Docker
Software / Self-hosting Solutions
Marauder (⭐186) ⚠ - Marauder is a fully dockerized cloud media server solution utilising Google Drive as an unlimited disk backend, assisting with the setup of tools like Sonarr, Radarr, Sabnzbd, Transmission and services enhancing their function. MIT Docker
Software / Software Development - API Management
Svix - Open-source webhooks as a service that makes it super easy for API providers to send webhooks. (Source Code (⭐1.1k)) MIT Docker/Rust
Software / Software Development - Project Management
Resources / Course Material
Introducing people to data security and cryptography / Brief introductions
Specific topics / Secret key cryptography
Specific topics / Cryptanalysis
Specific topics / Post-quantum cryptography
Books / Post-quantum cryptography
Related Projects / Analysis
Usenix93 Paper on BPF: The libpcap interface supports a filtering mechanism based on the architecture in the BSD packet filter. BPF is described in the 1993 Winter Usenix paper "The BSD Packet Filter: A New Architecture for User-level Packet Capture".
Frameworks and Stacks
pybotics (⭐249) - An open-source and peer-reviewed Python toolbox for robot kinematics and calibration.
Science Logology / Science of Science
Networking
Calico (⭐4.2k) - Calico is a pure layer 3 virtual network that allows containers over multiple docker-hosts to talk to each other.
Projects
Crates / Javascript Library Ports
Driver crates / WIP
M95320 - SPI - STMicroelectronics Serial flash EEPROM -
Replace browser new tab screen with GitHub trending projects.
Installs: 2000 | Stars: 337 | Last update: n/a
Software / Make your life easier
Replayable - Desktop dashcam that helps you capture unexpected bugs during manual testing.
Oh-My-Zsh
Plugins / superconsole - Windows-only.
spaceship-ocm (⭐0) - Queries your OpenShift Cluster Manager (ocm) configuration to show which environment you're connected to. Requires NerdFont in your terminal.
Completions / superconsole - Windows-only.
Themes / superconsole - Windows-only.
searocket (⭐0) - Slimmed down version of spaceship (⭐18k). Includes decorators for working directory, last command exit code, user, background jobs, bun, d, elm, go, nodejs, python, zig and git status. Requires D build chain.
windows (⭐31) - Inspired by the Windows Command Prompt. Includes a decorator for the current directory.
Community Resources / Blogs and Scholarship
WS-DL Blog - Web Science and Digital Libraries Research Group blogs about various Web archiving related topics, scholarly work, and academic trip reports.
Android Launcher
Bliss Launcher - The default launcher of the /e/ Android-based OS. It allows users to easily create and browse group of apps and it displays notification badges on app icons.
Cloud Storage
File Management and Sharing
Paperless-ngx (⭐5.4k) - A community-supported supercharged version of paperless based on paperless-ng

Paperless-ng (⭐5.3k) - [inactive] A supercharged version of paperless: scan, index and archive all your physical documents.

Paperless (⭐7.8k) - [Now archived] Scan, index, and archive all of your paper documents.
Self-Hosted
PC / MacOS
MS Windows - Owned by Microsoft it is known for collecting many user data and tricking users to own a Microsoft account. If you still want and happen to use Windows 10, you can use this tool to see and disable the tons of privacy-invasive settings of MS Windows.
Other OS:
RedoxOS - A WIP project aiming to provide a Unix-like Operating System written in Rust.
Quora
Quetre (⭐191) - Quetre is an alternative front-end to Quora. It enables you to see answers without ads, trackers, and other such bloat.
Web Browser / Alternative clients/modifications of Discord:
Google Chrome - Owned by google and built upon the open-source Chromium project (also Google-owned). It comes with many privacy-invasive features, it is connected to your Google account most times. It is under Google's privacy policy which is known to be very bad. Google is willing to enforce the Manifest v3 which is outright harmful to privacy efforts.
Microsoft Edge - It's a Microsoft-themed version of Chromium with Microsoft trackers instead of Google ones. Under Microsoft's privacy policy, which is also very bad. If you still want to use it, you can follow this guide to harden it a bit.
Android / iOS / Alternative clients/modifications of Discord:
Bromite - It has been known to lag on security patches, so it may be better not to use it.
Vanadium - Privacy and security enhanced releases of Chromium by GrapheneOS.
Useful Tools / Alternative clients/modifications of Discord:
Single File (⭐10k) - Save a faithful copy of an entire web page in a single HTML file so you can use it offline.
Other Lists / Help
Tools / Misc
txtai (⭐3.1k) - Build semantic search applications and workflows.
Gaming
APIs, Data and ML
PromptLoop - Use AI and large language models like GPT-3 with a single simple spreadsheet formula to tranform, comprehend, and analyze text in Google Sheets. First 2,000 credits free each month.
CI and CD
Make — Workflow automation tool which lets you connect apps and automate workflows using UI, it supports many apps and most popular APIs. Free for public GitHub repositories, and free tier with 100 Mb, 1000 Operations and 15 minutes of minimum interval.
Security and PKI
DBaaS
bit.io — Managed PostgreSQL database service. 3 database, 3GB storage per database, 1 CPU and 1GB Memory (burst), 1B rows queried per month
Issue Tracking and Project Management
Kiter.app - Let's anyone organize their job search and keep track of interviews, opportunities, and connections. Powerful web app and chrome extension. Completely free.
Design and UI
Projects Using Vue.js / Apps/Websites
TypeScript
Hasura GraphQL Engine (⭐28k) (label: good first issue)
Blazing fast, instant realtime GraphQL APIs on Postgres with fine grained access control, also trigger webhooks on database events.
OpenMetadata (⭐1.5k) (label: good first issue)
OpenMetadata is an all-in-one platform for data discovery, data quality, observability, governance, data lineage, and team collaboration.
H2O Wave (⭐3.1k) (label: good first issue)
Realtime Web Apps and Dashboards framework for Python and R. Suited (not only) for AI audience.
Node Efficientnet (⭐236) (label: good first issue)
EfficientNet Image Recognition model for Node JS ( written with tensorflow.js ).
Algorithms & Data Structures
Machine Learning
Mathematics
Misc
Networking
Applications / Cryptocurrencies
Development tools / Web Servers
bacon (⭐660) — background rust code checker, similar to cargo-watch
Libraries / Audio and Music
Libraries / Encoding
Libraries / Network programming
HTTP

Hurl (⭐3.6k) — Run and test HTTP requests with plain text and libcurl
🏆 Tutorials / ⚙️ Schema Visualization Tools
👾 Projects Using Prisma / Tutorials with NestJS
(requires Neovim 0.5)
(requires Neovim 0.5) / Diagnostics
folke/lsp-colors.nvim (⭐401) - A plugin that adds missing LSP diagnostics highlight groups for color schemes that don't yet support the builtin LSP client.
Programming Languages Support / Diagnostics
Golang / Diagnostics
YAML / Diagnostics
Web Development / Diagnostics
ray-x/web-tools.nvim (⭐56) - Launch a local development server with live reload feature for static & dynamic pages, HTTP & CSS tag rename with LSP.
Language / Diagnostics
Search / Diagnostics
File Explorer / Diagnostics
is0n/fm-nvim (⭐166) - Neovim plugin that lets you use your favorite terminal file managers (and fuzzy finders).
nvim-neo-tree/neo-tree.nvim (⭐1k) - Neo-tree is a Neovim plugin to browse the file system and other tree like structures in whatever style suits you, including sidebars, floating windows, netrw split style, or all of them at once.
Project / Diagnostics
shaeinst/penvim (⭐29) - Project's Root Directory and Documents Indentation detector with project based config loader.
nyngwang/NeoRoot.lua (⭐63) - Change your current working directory to the buffer your cursor is on, and try to go up 2 levels but stop after it encounters one of the project roots you define.
Colorscheme Creation / Diagnostics
ThemerCorp/themer.lua (⭐210) - A simple highlighter plugin for neovim. It has a huge collection of colorschemes. It also has ability to create colorschemes for Vim/Neovim and other supported apps (such as kitty and alacritty).
Bars and Lines / Diagnostics
Statusline / Diagnostics
NTBBloodbath/galaxyline.nvim (⭐147) - Galaxyline componentizes Vim's statusline by having a provider for each text area. This means you can use the api provided by galaxyline to create the statusline that you want, easily.
rebelot/heirline.nvim (⭐465) - Heirline.nvim is a no-nonsense Neovim Statusline plugin designed around recursive inheritance to be exceptionally fast and versatile.
Tabline / Diagnostics
Cursorline / Diagnostics
RRethy/vim-illuminate (⭐1.4k) - Highlight the word under the cursor. Neovim's builtin LSP is available, it can be used to highlight more intelligently.
Startup / Diagnostics
Icon / Diagnostics
Media / Diagnostics
askfiy/nvim-picgo (⭐26) - A picgo-core-based Neovim plugin, written in Lua, that allows you to upload images to the image bed, which means you can view your images from anywhere on the internet.
Note Taking / Diagnostics
jakewvincent/mkdnflow.nvim (⭐306) - Fluent markdown notebook navigation & management (create links, follow links, create and manage to-do lists, reference bib files, and more).
renerocksai/telekasten.nvim (⭐653) - A Neovim (lua) plugin for working with a text-based, markdown zettelkasten / wiki and mixing it with a journal, based on telescope.nvim.
Utility / Diagnostics
Terminal Integration / Diagnostics
Quickfix / Diagnostics
Test / Diagnostics
Code Runner / Diagnostics
GitHub / Diagnostics
Motion / Diagnostics
Keybinding / Diagnostics
mrjones2014/legendary.nvim (⭐657) - Define your keymaps, commands, and autocommands as simple Lua tables, and create a legend for them at the same time (like VS Code's Command Palette), integrates with which-key.nvim.
b0o/mapx.nvim (⭐211) - A simpler key mapping API that mimics Neovim's :map-family of commands. Integrates with which-key.nvim.
LionC/nest.nvim (⭐216) - Lua utility to map keys concisely using cascading trees. Also allows binding Lua functions to keys.
slugbyte/unruly-worker (⭐21) - A ridiculously fun alternative keymap for the workman keyboard layout with Neovim features like LSP support, built and configured with Lua.
Mouse / Diagnostics
Scrollbar / Diagnostics
Comment / Diagnostics
danymat/neogen (⭐678) - A better annotation generator. Supports multiple languages and annotation conventions.
Indent / Diagnostics
echasnovski/mini.nvim#mini.indentscope (⭐1.4k) - Module of mini.nvim for visualizing and operating on indent scope. Supports customization of debounce delay, animation style, and different granularity of options for scope computing algorithm.
Remote Development / Diagnostics
Split and Window / Diagnostics
Tmux / Diagnostics
declancm/windex.nvim (⭐45) - Collection of window functions which includes moving between, closing and maximizing Neovim splits and Tmux panes.
Game / Diagnostics
Preconfigured Configuration / Diagnostics
cunderw/nvim (⭐9) - Neovim custom configuration, focused on JS/TS, Go, and Java development. Very IDE like.
Boilerplate / Diagnostics
Archives and primary sources / Global
United Nations Archive - Archives and records from the United Nations regarding Secretaries-Generals, departments and missions.
Archives and primary sources / Netherlands
Nationaal Archief - The National Archives of the Netherlands consisting of 137 km of documents, 15 million photographs and nearly 300,000 historical maps and drawings and 800 terabyte of digital files.
Archives and primary sources / North America
National Archives - The official archives regarding veteran records, founding documents and presidential libraries of the United States.
Articles / Others
Command-Line Tools / Newsletters
nvd - Diff package versions between two store paths; it's especially useful for comparing NixOS generations on rebuild.
Development / Newsletters
NixOS Configuration Editors / Desktop apps
NixOS Configuration Editors / Webinterface
MyNixOS - Graphical editor for Nix flakes. Create and manage configurations and modules for NixOS and Nix home-manager. Rather a Nix generator than a Nix editor, because it does not allow to import Nix files.
Non-English Content / Roguelike
Mobile
Capacitor - Build native mobile apps with web technology and Svelte.
UI Libraries
Svelte UI - SvelteUI is an all inclusive Svelte library.
Scaffold / Checkbox
Routers / Checkbox
---